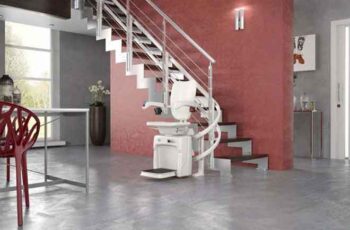 Thanks to the new technological tools proposed on the market, the home life of a disabled person can be improved from all points of view. Science, working closely with medicine, has in fact been able to arrive at some high-tech solutions with which to facilitate the daily actions of people with disabilities.
Devices with integrated technologies capable of allowing people to go back to walking, seeing and talking are gradually spreading.
Among the many in the diffusion, development and application phase, there are some that are literally depopulating, as more efficient than others and able to give the consumer real knowledge of how much the way of conceiving the home is really evolving.
These are solutions that can allow disabled people to cut vegetables and fruit with one hand, or not to experience the presence of a staircase in the house with discomfort and impediment.
1. The electric stairlift
For those who have mobility problems and unfortunately find themselves living in a house with flights of stairs, the technological alternative at home is represented by the stairlift, certainly not a super recent product, but the latest products have integrated super advanced functions and features ranging from the smallest footprint to absolute silence, up to voice commands.
You will find many models on the market, from the cheapest to the most expensive, suitable for straight stairs, curved stairs, and much more complex designs.
The stairlifts can be installed both inside and outside the home, just choose models that do not spoil the aesthetics of the building.
Thanks to these devices, i Disabled they will be able to move from one floor to another and be independent (you can learn more about the Vimec stairlift).
2. Remote controlled lighting
Even the lighting system can be made highly technological thanks to a remote control system, which avoids the person having to get up to turn the light off and on.
Using home automation systems, many problems can be overcome at home, thanks to commands that can be given using a PC, a tablet, a smartphone and even with the voice, Google Home or Amazon Alexa teach.
3. Audio and video systems
By installing equipment with sensors around the house, it is possible to allow those who live in the house to use audio and video systems while remaining comfortably seated on the sofa.
Do you want to see a movie? Do you want to listen to some music? A remote control with integrated touch display is enough for each device in the house to switch on and set up the stereo or video system, for example, and switch them off when no longer needed.
In addition to the audio system, it is also possible to add voice sensors that allow you to interact with the different appliances in the house, from lights to appliances. By pronouncing simple and short sentences it is possible to operate the commands for those who struggle to perform even the simplest movements.
4. Wheelchair who knows how to use stairs
Also for those with walking difficulties, such as to be confined to a wheelchair, a particular model of wheelchair has been created that can go up and down stairs.
Since disabled people often experience the discomfort of moving around the house, where there are small steps or unevenness, this particular model makes the difference.
The new wheelchair aims to solve this problem, thanks to its ability to climb and descend stairs and offer maximum stability on uneven ground.
Of these wheelchair models, the innovative feature lies in the Elevation mode, which allows its user to be raised to an interlocutor's eye level or in any case to rise when visibility is obstructed.
5. One-handed tools
There are many kitchen utensils that require both hands to be used. However, there are people who are prevented from using one of the limbs.
In this sense, highly technological tool sets have been developed that can be used with one hand.
The first of these high-tech sets was developed by a Singapore Industrial Design student who brought two prototypes to the market. The first is an intelligent cutting board with position sensors and equipped with stops to make the food to be cut stable; the second is a mat for washing dishes with an innovative silicone surface suitable for holding dishes in place during washing.
6. Training system for people in wheelchairs
Who says that a disabled person cannot train and keep fit?
Within the limits of what their motility allows, people with disabilities can make use of particular training tools. These are devices that are used by engaging only the upper body and are perfect for those who are confined to a wheelchair.
This system works by keeping the wheelchair stationary in the position that is most comfortable, allowing users to carry out their training in peace. Thanks to this tool, there is no need to get help from another person during training, also because there are digital sensors integrated in the system that record usage data and show them on a display.
In this way the athlete has the possibility to view a series of useful information such as training time, heart rate and the number of calories burned.
The equipment in question, among the other options and functions it offers, gives the possibility to carry out multiple exercises, without having to buy more than one piece of equipment. A technological, comfortable and very useful solution.
Further Reading:
Top 4 Solutions to Fix Netflix T1 Error on Windows 10
The best smart coffee machines
How to set or change your address on Google Maps
Discovery + crashes? 11 solutions
Forgotten Wifi password, how to recover it