Samsung has just officially launched Elio and the Tech stories, the new podcast hosted by Elio and Le Storie Tese. With the irony that distinguishes this na band - famous for several songs, including Mio Cuggino - it will be explained how the tech helped to change positively la "vita" of people.
Elio, the other members of the group and others exceptional guests they will demonstrate how it is possible to overcome everyday obstacles while staying connected, also exploring the different aspects of technology. Each episode will end with a "technological neologism" coined by the Milanese group.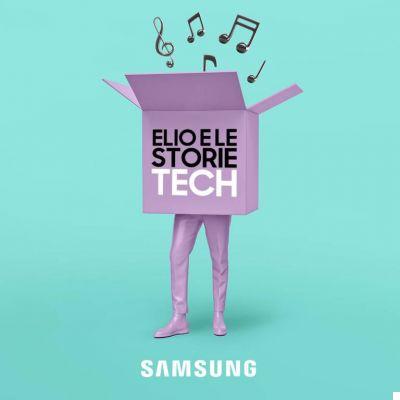 Francesco Cordani, Head of Marcom at Samsung Electronics, commented on this initiative as follows:
Samsung stands out in the market for the innovation of its products and for its cutting-edge technology, and the continuous research and development of new solutions does not only concern the products, but also the methods of communication. We want to be close to our users and address them through new tools that allow us to tell our brand in an emotional and engaging way, which highlights what is the true, great impact of our technology in everyday life. Listening to podcasts is increasing exponentially and across generations. For this reason Samsung has decided to focus on this channel to communicate in a new way the themes most dear to our company, thanks to an exceptional management - that of Elio and Le Storie Tese - and to many guests who will help listeners to fully immerse themselves. in connected life.
Will 12 bets of this podcast, in which Elio, Faso and Cesareo will interview several special guests. The episodes will be released every two weeks. The project, which will therefore last five months, will be available entirely on Spotify. The guest of the first episode - which has already been published - is Salvatore Aranzulla, the tech blogger. Stefano Belisari (aka Elio) declared:
We like to test ourselves with new projects, and we still lacked talking about technology. Even if we use it every day, with this experience we have embarked on a real journey into innovation, which in many respects was yet to be discovered for us. During the episodes, with the various guests who followed each other and with whom we had the pleasure of chatting and joking, we told in our own way how, using the different technological devices in a conscious way, what is complicated can become simple and what that was impossible, is now within reach.
Il podcast is available on the official Spotify page.
Samsung Galaxy A51, a mid-range smartphone with an excellent technical data sheet, is available for purchase on Amazon.