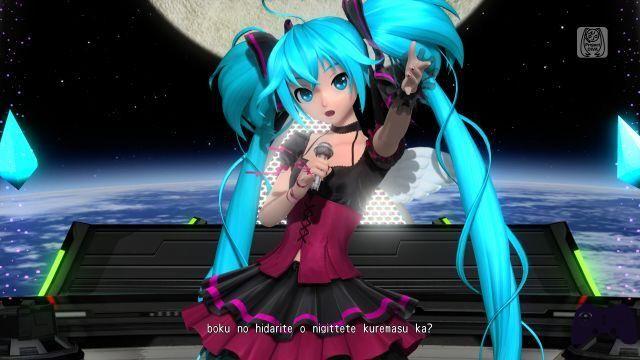 Sega has released, at a price of € 9,99, the '3rd Encore Pack' for Hatsune Miku: Project Diva Future Tone. In addition, a season pass is also available at the price of € 24,99.
Here's what the DLC contains:
■ Songs
Piano × Forte × Scandal (Music & Lyrics by OSTER project)
Hibikase (Music by GigaLyrics by Reol)
Amatsu Kitsune (Music & Lyrics by marasy)
1925 (Music & Lyrics by T-POCKET Manipulated by Ordinal P)
■ Modules
Hatsune Miku
Phantom Thief Miku
Conductor Nightingale
Snow Miku 2017
Pajama Party Miku
Kagamine Rin
Phantom Thief Rin
Amasode
Conductor Canary
Pajama Party Rin
Kagamine len
Conductor Vermilion
Pajama Party Len
Megurine Luka
Conductor Rose
Pajama Party Luka
Kaito
Phantom Thief KAITO
Conductor Sky
Pajama Party KAITO
Meiko
Phantom Thief MEIKO
Conductor Crimson Wine
Pajama Party MEIKO
■ Accessories
Steaming Mad
!?
Satellite dish
Red Party Hat
Blue Party Hat
Yellow Party Hat
Snowman Head
Smiling Snowman Head
Overhead Heart
Fake Mustache
Green Bib
Yellow Bib
Orange Bib
Pink Bib
Blue Bib
Red Bib
Heart
Broken Heart
Nine Fox Tails
Dangling Cat
Schoolbag
■ EXTRA EXTREME Charts
Future Sound
Colorful × Melody
Requiem for the Phantasma
To the End of Infinity
Lover's Suicide Oblivion
Colorful Tone
Gothic and Loneliness ~ I'm the very DIVA ~
The Snow White Princess is…
NekoMimi Archive
Black Gold
The title is available on PS4.
Source