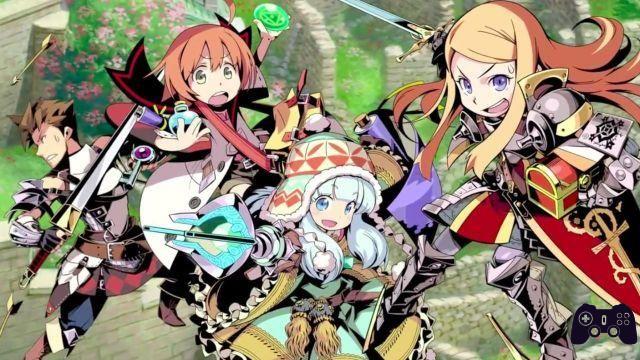 Atlus announces, via press release, that a new one is now available trailer related to Etrian Odyssey V: Beyond the Myth.
Watch a Harbinger teach the creatures inhabiting Yggdrasil a lesson in the new trailer!
Wielding a giant scythe and enveloped in a mysterious energy known as a miasma, the Harbingers are reapers of destruction ready to protect you in an instant. In addition to being able to disperse damage by annihilating enemy weapons, Harbingers can aid the party and inflict heavy damage on enemies with the power of miasma. Using TP, they can summon a powerful miasma armor with passive or skill support (curse, paralysis, etc ...). Be careful though, wearing the armor will lower your HP. They are an unconventional class, but could prove to be a great asset in the right hands.
Get to know the mysterious Harbingers in the new trailer!
Video
Demo
In case you missed it, the game demo is available! It allows future explorers to create any kind of party they want (every character and class are available) to give an early-game kick to the whole map. While it is not possible to pass level 10 and only the first 3 floors of the tree can be explored, matches and progress will carry over to the main game upon launch. There is no reason not to start! Download the demo on Nintendo eShop today and discover some treasures.
Etrian Odyssey V: Beyond the Myth features:
Create your odyssey - Starting from choosing your party to exploring the mysterious tree maze of Yggdrasil, Beyond the Myth is completely based on your choices for a unique adventure. Test your survival skills as you wisely explore Yggdrasil's plans, use cunning tactics to fight the ferocious beasts in your path, make the right decisions depending on the occasion, and so much more. To meet these challenges, your Iorys city is the foundation to meet all your selling / buying, recruiting and information needs!
Progress based gameplay on the map - It wouldn't be a true Etrian Odyssey game without the basic need to mark your progress on the map. For those new to the series, the bottom screen of the 3DS shows a map that must be filled out as you progress through a dungeon. Players can use the map to mark where treasures, doors, enemies, environmental obstacles and more are located. Expect the unexpected at every turn — and make a note of it on the map so it won't be unexpected in the future!
Epic turn-based battles - There is a reason no one has ever reached the top of Yggdrasil. Dangerous creatures and terrifying enemies haunt the maze on every floor, so prepare for epic strategic turn-based battles. Proper planning and party balance are key to success. You will need the right team to achieve your goals!
Extensive character creation and customization - With four unique races, 10 distinct classes, the title offers more customization options than in previous installments of the franchise.
A magical artistic and musical direction - Famous illustrator Yuji Himukai and renowned composer Yuzo Koshiro return to put their signature on the game's artistic and musical direction.
Etrian Odyssey V: Beyond the Myth will be released on November 3rd for Nintendo 3DS ™ for € 39.99. For more information visit: http://atlus.com/etrian5/.
Etrian Odyssey V: Beyond the Myth Details
Platform: Nintendo 3DS ™
Release date: November 3, 2017
Developer: ATLUS
Genre: RPG
Player: Single
PEGI: 12
Price: € 39.99
Language: English (Voice and lyrics)
Source