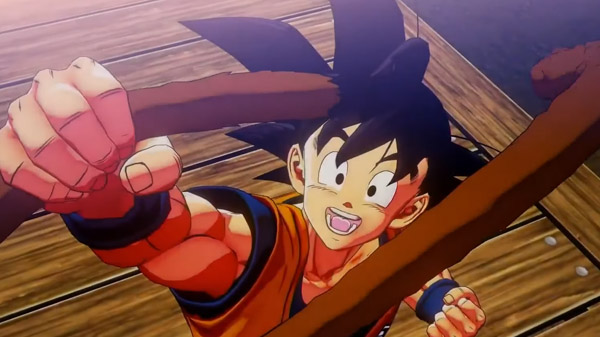 A new 12-minute trailer for the Dragon Ball action RPG is available
During IGN's livestream for E3 2019, Bandai Namco shows off to fans 12 minutes of gameplay of the new title Dragon Ball Z: Kakarot.
The livestream saw the participation of Kazuki Kimoto of Bandai Namco and Ryosuke Hara of CyberConnect 2, who shared new information with the public. Here are the most salient:
Players will relive the history of Dragon Ball Z in a very full-bodied way. There will be many scenes recreated with meticulous fidelity to the original storyline that players will no doubt recognize, and even more depicted like never before.
The look of the game blends the CyberConnect 2 experience with Cel-shading technology (NDT: references to purely random characters) and Akira Toriyama's unique style. The facial expressions of characters and dynamics emotional swings of battles.
The game it is not open-world: setting the goal of telling the plot, an open-world would have somehow betrayed the original work.
Despite this the map every area of ​​the map is very big: Each area is unlocked as you progress through the plot, and Goku can move around at will.
In the game there will also be scenes in which adult Goku interacts with famous characters from Dragon Ball, such as Android 8.
(What happens in the parts of the story where Goku can't fight? Will the other characters be able to play?) Nothing can be said for certain about other playable characters, at least for now, but the game aims to faithfully retrace the storyline of Dragon Ball Z, so fans won't be disappointed.
In addition to telling the original plot of Dragon Ball Z, there will be passable subplots like that of the aforementioned Android 8.
It's not possible to say for sure whether or not the game will go beyond the Frieza saga, but - again - fans won't be disappointed.
The goal of the game is to experience it firsthand Goku's life under multiple facets - flying on the Speedy cloud, eating, fishing and more.
In addition to obtaining temporary upgrades, for example for the attack, wisely manage the food is one of the building blocks of the game cycle, and can also result in permanent upgrades.
Following is the gameplay released during the conference.
Dragon Ball Z: Kakarot will be available in early 2020 for PS4, PC and XBox One.