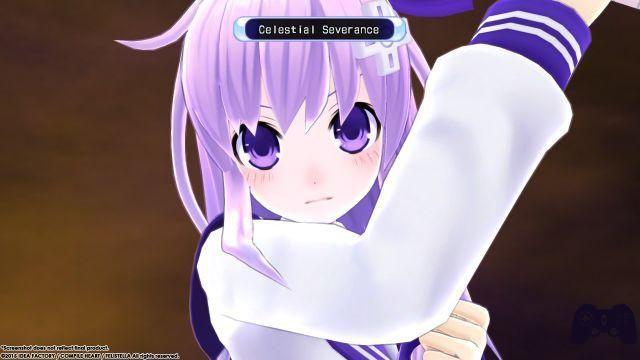 Idea Factory International continues with its intention to broaden its audience by including PC gamers. On May 29, in fact, it released on Valve's digital platform Hyperdimension Neptunia Re; Birth2: Sisters Generation, porting of the homonymous title released on PlayStation Vita.
As already happened with the port on PC of Hyperdimension Neptunia Re; Birth 1, we will focus particularly on the differences between the PC version and the PlayStation Vita version (here for the review).
The war continues
In Hyperdimension Neptunia Re; Birth2: Sisters Generation (henceforth Sisters Generation) the story continues the events of the CPU struggle against Arfoire, the girls have been defeated and imprisoned in the cemetery of the Goddesses. Only a few years later, Compa and If manage to save Nepgear (Neptune's Sister) and return to Planeptune, where they decide to leave to get the support of the other candidate CPUs and mascots of the various cities present on Gamindustri. During the adventure you will meet various characters, allies and enemies, all more or less stereotyped and funny in their own way, who will have a lot to tell in a long series of dialogues. All this will take place in about fifty hours of play, which will probably become many more due to the forced grinding that you will often be forced to.
A somewhat desired Copy & Paste
The game mechanics of Sisters Generation have remained roughly identical to those of Re; Birth1. Turn System, EXE Drive, Combo, SP Attacks and Lily Rank have remained unchanged in a formula that convinced us in the past and which continues to be more than just fun. However, in this "Copy & Paste" were also reported the defects that plague this series of remakes of the saga. The dungeons continue to be anonymous and all too similar to each other, just as a wild grinding continues to be necessary to obtain experience and materials. All this risks putting the positive aspects of the Sisters Generation gameplay in a bad light, creating the possibility of removing a slice of users even quite large.
The PC port does not present anything different from the PlayStation Vita version, also including the Stella's Dungeon. This is a timed mini-game where Stella will explore various dungeons (in real time) in which she will have the opportunity to obtain rare and useful items for the player.
An almost successful beta-testing
Idea Factory International, before officially releasing this port on Steam, started a long and intense beta test phase. In fact, during this period, the development team had the opportunity to collect numerous reports relating to bugs, crashes and glitches in the game to promptly intervene with corrective patches. This allowed the company to release Sisters Generation with far fewer problems than it had in the past with Re; Birth1. While this strategy was supposed to ensure a defect-free product, Sisters Generation is downright unfortunate in this respect. In the course of our adventure, in fact, we have witnessed numerous times to frame drops, sometimes even heavy, during the most excited scenes and / or with a large number of characters on the screen. This is somewhat perplexing, since, at least in our personal case, we didn't see any of this during the beta. It must also be said, however, that IFI has always proved efficient in correcting problems that plagued its titles and therefore we are quite confident that they will be able to patch up this purely technical flaw.
60fps good to look at
From an aesthetic point of view, the Sisters Generation port on Steam is of a high standard. The images are no longer simply upscaled, but have been recreated specifically for this version. Playing in Full HD, you will be able to admire our beloved idols in all their splendor, enjoying a framerate that, drops permitting, remains stable at 60fps. In general, however, one gets the impression that the pixel density is roughly identical to that present on the PSV version. Porting to PC, although it has some improvements, ends up in this way by not having anything particular to push users to choose this version rather than the original one.
In terms of requirements, however, Sisters Generation is within the reach of almost everyone.
Recommended requirements:
OS: Windows 7 (64bit) or later
Processor: 3GHz Intel i3 or equivalent
RAM: 6 GB RAM
GPU: DirectX 10.x or OpenGL 3.3 or later
Disk space required: 7 GB of available space
Sound Card: DirectX 9.0c compatible sound card
Additional Notes: ATI Mobility Radeon HD 5xxx GPU with 1GB VRAM may not work properly.
As the table shows, the requirements are quite low and even low-end configurations might be able to handle such a game. However, there is a minimum of attention to the GPU. In order to play properly in full HD, a quantity of 1.7GB of VRAM is required, which is not indicated in the system requirements. In addition, to reassure users who do not have 6GB of RAM, the game uses very few and it is thus possible to remedy the lack by closing unnecessary applications in the background. We ourselves have never gone beyond 5.3GB of use, despite the many open programs.
Finally, from the sound point of view, what has already been said in the "first" review is valid: the songs are a pleasant background for your adventure and are never a disturbing element.
Verdict 7.5 / 10 Just grind, please Comment This second port on PC by Idea Factory International is a great opportunity for that slice of users who wanted to have Sisters Generation but at the same time did not have a PlayStation Vita. The low system requirements and 60fps at 1080p make it a good option to definitely consider. Unfortunately, compared to Re; Birth1, the defects of all time relating to the game mechanics remain, to which are also added occasional frame drops that make us slightly penalize the game. This does not mean, however, that if you loved the first, you can't not play this second chapter as well. Pros and cons
✓
Finally on PC
✓
Still fun gameplay
✓
Aesthetically improved
x
Annoying frame drops
x
The defects of all time