The challenges of week 6 have just been released and we at Holygamerz are here to provide you with tips and maps to complete it to the fullest. Let's see how to overcome the new week of this Fortnite season 6 through our guide
As always, we have reached the new appointment with the weekly challenges of Fortnite. Halloween is now over and the nightmare event is now about to end. Despite everything, however, the developers have released a new update that added the balloons, a new object that we will be able to find in the version Battle royal. Also the Cube, returned in this season 6 it seems to be breaking apart and perhaps, in this week 6 there will be a dedicated event. But now let's leave this chatter aside and jump into our guide to see how to best overcome all the challenges.
Fortnite: guide to the free challenges of week 6 | Season 6
Place freezing traps in different matches (0/3)
The first challenge this week is quite simple. All we have to do will be find 3 freezing traps and place them (casually or wisely it doesn't matter) where we want. In fact, there are no restrictions such as "inflict damage" or "eliminate opponents".
Look for a basket in different places indicated (0/7)
The places indicated are, as you surely know by now, the places that have a name on the map. All we have to do is land in one of these and open any chest. Subsequently we can decide whether to continue looting this area, paying attention to the various enemies we may encounter, or head to the nearest location and hope to find a treasure chest not yet open.
Elimination with heavy rifles (0/3) (DIFFICULT)
What better weapon than a shotgun for close range combat? All you have to do is land before your opponent, grab a shotgun and fire. If, on the other hand, you are at a distance, try to get as close as possible and then open fire as soon as the distance allows you to hit it inflicting the necessary damage.
Fortnite: guide to the challenges of the Battle Pass of the week 6 | Season 6
Phase 1: Land in confused conduits (0/1)
This challenge is very simple, but to complete it you will have to play 5 different games. The first place you will need to land is Confused ducts. Next you will need to land at Fast Risky, then to Commerce Course, after still a Montagnole Maledette and finally a Wash basin.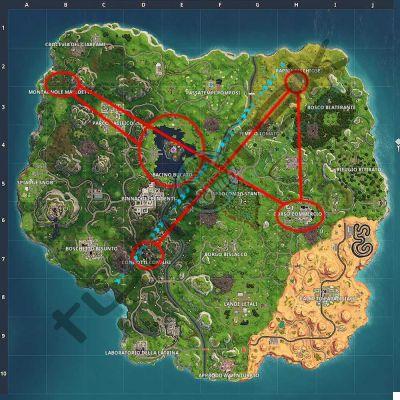 Inflict damage to opponents with a pickaxe (0/250)
This challenge may seem very difficult, but in reality it will turn out to be very simple. All you have to do will be play in a team mode and after landing an opponent, eliminate it permanently with the pickaxe. Once this is done you will be guaranteed 100 damage and with 3 opponents you can easily complete the challenge.
Phase 1: find the score in Parco Pacifico (0/1) (HARD)
This fragmented mission is like the other research we were used to, only now we have to respect a certain order imposed by the various phases. The first score to find will be a Pacific Park and it must be played on the giant keyboard on the mountain to the west. The second will be found at Commerce Course and it will have to be played on the giant keyboard that will be found to the southeast.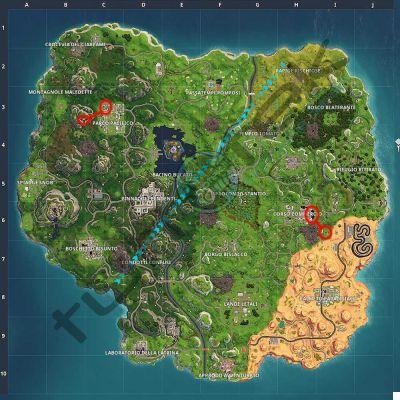 Phase 1: eliminations with a common weapon (0/1) (HARD)
The only restriction on this challenge will be the rarity of the weapon. As we all know, common weapons are the easiest to find, but they are also the ones that deal the least damage. It will certainly not be easy to kill our first opponent, so I feel compelled to give you two tips based on the moment of the game you are in. If you are at the beginning and both you and some opponent are landing in the vicinity of the weapon, try to land first and empty the magazine on him. If you are already on the ground, try to sneak up on you to your opponent and at the most opportune moment fire trying to hit him in the head. It will take you fewer hits and less time before he can react. Further deletions will have to be performed later with an uncommon weapon, having a rare, having a Epic and with one legendary.
For this guide to the challenges of Fortnite week 6, that's all. If you still have missions to complete from the previous week, you can consult our guide by clicking here. To not miss other information on season 6 instead, continue to follow the pages of Holygamerz!