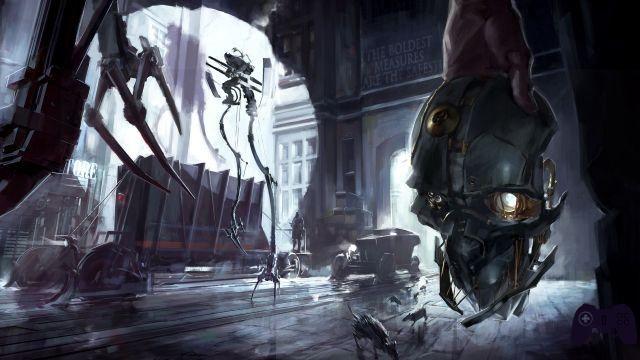 Despite the increase in new titles for the current generation consoles and the decrease in products made in the cross gen version, we are still faced with operations of remastering of works coming from, not too far, the past. This time it's up to Dishonored, title developed by Arkane Studios which, in 2012, managed to amaze everyone thanks to a strong charisma and to a gameplay capable of bringing a healthy breath of fresh air into the panorama of videogames with a strong stealth component. Therefore, this one will succeed Dishonored Definitive Edition to conquer the users of the current videogame generation too? Obviously you can find out by reading our review, but first we would like to make a particularly significant note. The title available for PlayStation 4 e Xbox One starting from 28th August It has a both physical and digital distribution, but, in the latter case, with an interesting addition for owners of the old version. There version available for purchase in the store, in fact, it was put up for sale at an introductory price of approximately EUR 40, while the digital one, for those who have already played the title on PlayStation 3 and Xbox 360, is available just 19.90 euro, resulting extremely cheaper it's convenient. This choice appears even more interesting in that Dishonored has already joined the titles present within the service Xbox Live and, more recently, of the PlayStation Plus, thus allowing a large number of people to take part in this promotion.
Version tested: PlayStation 4
The sword, the Raven, the sea.
Set in a London that mixes nineteenth-century elements with those of a dystopian science fiction, we will find ourselves playing Corvo, the lord protector of Empress Jessamine
La plot di Dishonored Definitive Editionobviously remains that of the original title. Set in a London and mixes nineteenth-century elements with those of a dystopian science fiction, we will find ourselves interpreting Corvo, the lord protector of Empress Jessamine. Returning from a mission to find out how to eradicate the plague, we will witness the brutal murder of the sovereign and, after seeing Princess Emily being kidnapped, we discover that we are just pawns inside a conspiracy of enormous proportions. We will therefore be forced to flee to avoid police capture and find a way to bring things back to normal. Dishonored's story is compelling, charismatic and full of, though sometimes predictable, twists and turns, managing to charm the player and keep him glued in front of the screen for its entire duration. duration which, thanks to the presence in this edition of all the DLCs, will take you away from 20 to 30 hours. The main point of the narrative sector, strangely, comes neither from the interesting story nor from the fascinating characters, but from thegeneral atmosphere that will inevitably get under your skin and stay there for a long time. Suffice it to say that the art director of the title is Victor Antonov, author famous for having contributed to making immortal Half Life 2 thanks to his great artistic skills.
I see. I do not see.
In fact, our decisions will shape Dishonored's gameplay
even the gameplay di Dishonored Definitive Edition fortunately, it has arrived at the present day without undergoing any kind of change. The work by Arkane Studios, in fact, turns out to be one of the best stealth titles of recent years, thanks to mechanics capable of letting the player choose the type of approach to their adventure. That you want to tackle it all with non-lethal mechanics (with consequences even on the ending of the story) or that you prefer to exploit the homicidal skills of Corvo, we will never be forced into one or the other style of play. In fact, our decisions will shape the gameplay of Dishonored which, in an extremely natural way, will make us available a series of weapons and skills capable of satisfying even the most demanding player. The use of the sword and the gun, in fact, is only the surface of the iceberg created by the French software house. Thanks to powers given to him by a mysterious entity known as the Outsider, Corvo will be able to teleport short distances (mechanics that, right from the start, will become essential to move with confidence), take possession of living beings, slow down time and many other skills able to make the gameplay varied and addicting. In this new edition for the current generation consoles, we will also be able to find all additional content released to date. Here then, beyond one additional campaign as Daud (character that we will not analyze to avoid spoilers on the main plot), we will have the opportunity to face one series of challenges that will increase overall longevity of a title that is completely unmissable for those who have not yet had the opportunity to play it.
Definitive Edition also graphically?
We didn't notice much of a graphical change
And here we are at a key point regarding remasters: the technical component. Dishonored Definitive Edition boasts 1080p resolution, but, unfortunately, the work done by the guys from Arkane Studios is limited to this. Compared to the original version we have not noticed, in fact, a great change from the graphic point of view that, due to some poorly defined texture and a polygonal modeling not exciting even in 2012, fails to impress as it should. Nothing that obviously compromises the quality of the title, but we are sorry to see so little effort in what should be the strength of a remastered. On the other hand, the sound sector is excellent which, with a successful soundtrack e a quality Spanish dubbing, is completely unassailable.
Verdict 8.5 / 10 Mice! Mice everywhere! They come out of the fucking walls! Comment Dishonored Definitive Edition turns out to be, especially in the cheap digital version, an unmissable title for all those who have not yet had the opportunity to play it. An engaging plot and, above all, a gameplay capable of meeting any type of approach the player decides to take make the Arkane Studios title a pearl within the videogame landscape. A different question, unfortunately, as regards the remastering which, boasting only the addition of 1080p, fails to fully satisfy and makes the title negligible by those who have already faced the adventures of Corvo on PC or on last generation consoles. In case you are one of the latter, but your desire to return to London is too strong, our advice is to take advantage of the excellent offer for digital copying and, in this way, recover the complete package at half price. Pros and cons
✓
Unique atmosphere
✓
Maniacally curated gameplay
✓
Many different skills from each other
✓
Long lived thanks also all the DLCs
✓
Interesting offer for owners of the Old Gen version
x
Graphically dated
x
No major additions compared to the GOTY